Five Tips For Finding The Best Phoenix Roofing Contractor
When you are in need of roofing services, home and business owners do not want to just pick any roofing contractor, but they will want to start by searching for some of the most reputable local roofing technicians in their area. As responsible property owners, they need to be know how to determine the work history, quality of services, and other roofing contractor attributes to select the roofing installation or roofing repair company with exemplary experience and skills. Choosing a reliable Phoenix roofing contractor can be a difficult task because the final product, whether roof repair or installation, is intangible until the job is complete. Whether you are in need of a commercial or residential roofing company in Phoenix, be sure to check out five essential tips for finding the best Phoenix roofing contractor!
Tip #1: Choose a roofing company with a good reputation
Many Phoenix roofing companies can claim their services are the best, but what do their customers say about their roofing services? Having a long list of satisfied past customers is one of the surest signs of a quality roofing company. With social media and numerous online review websites, like Yelp and HomeAdvisor, it is easy to learn about a roofing company's reputation. In addition to having good reviews online, quality Phoenix roofing companies will gain referrals through previous customers who were impressed with the service and workmanship of their work. As a general rule of thumb, Phoenix roofing contractors who consistently offer exceptional service will be the same ones who earn a good reputation. And, companies whose services create issues and are inconsistent will eventually receive negative reviews and be exposed for their problematic service.
How does a roofing contractor earn a good reputation?
Roofing is not an easy job, especially when you're dealing with the hot climate of Phoenix. In fact, many Arizona roofers work in the some of the harshest, hottest conditions. Did you know that Arizona is in the top ten hottest states in the United States? In these hot and dry conditions, the only real way to find relief is to wait for the seasons to change. A roofing contractor will not earn their reputation by luck, but rather with hard-working, committed, and friendly roofing services. When searching for a reliable roofing company, here are some qualities to keep an eye out for.
Gives customers a fair and honest quote for the job

Works efficiently within customer budgets

Sets accurate and clear expectations for the timeline and amount of work

Arrives on time for the job

Has the required roofing materials, tools, experience, and skills needed to do the job

Promptly communicates with customers about any changes and delays to the job

Works quickly to complete a job as efficiently as possible to complete the job on time

Cleans up the work site once the job is finished

Leaves customers with an appealing, durable roof
How to determine if a roofing contractor has a good reputation
A roofing company's reputation is not what they say about themselves, but rather what their customers say about them. There are plenty of effective ways that you can find out what previous customers have to say about the roofing company you are interested in, consider the following strategies:
Online Reviews
Whether a customer experienced the best roofing services or the worst, there is a good chance they will share their experience online. It is important to search for customer reviews that are detailed and specific and be cautious of those that are vague and bland.
Customer Referrals
If you don't trust what the internet says, a customer referral may be the next best thing. Unlike online reviews, a referral is actually someone you can talk to about their experience and satisfaction with a roofing contractor's services. If your neighbor recently hired a contractor for roof replacement, check in and see if they are happy with the outcome. Ask family members, friends, and co-workers if they can recommend an experienced and affordable roofing contractor that they have recently worked with. When you choose a local roofing contractor that is trusted by those closest to you, you can ensure that they provide reliable services and are well-established in the community.
BBB Rating
From customer complaints to other dishonest company practices, if you are unable to find a good review online or a referral from a friend, the Better Business Bureau can help. Use the BBB to find roofing contractors with great ratings, ideally an 'A+ rating', and to avoid companies with numerous customer complaints, or worse, no BBB profile at all.
A roofing contractor's reputation is earned by their dedication to hard work, performance, and quality services. Reputation can be communicated through various channels and platforms, both online and offline. As a paying customer, you have the right to know that you can rely that your property's roof will be durable, long-lasting, and protective. At Express Roofing in Phoenix, AZ we are committed to providing reputable residential and commercial roofing services to Phoenix, and both our reviews, customer referrals, and A+ BBB rating backs us up. Contact our Phoenix roofing company to receive a free estimate.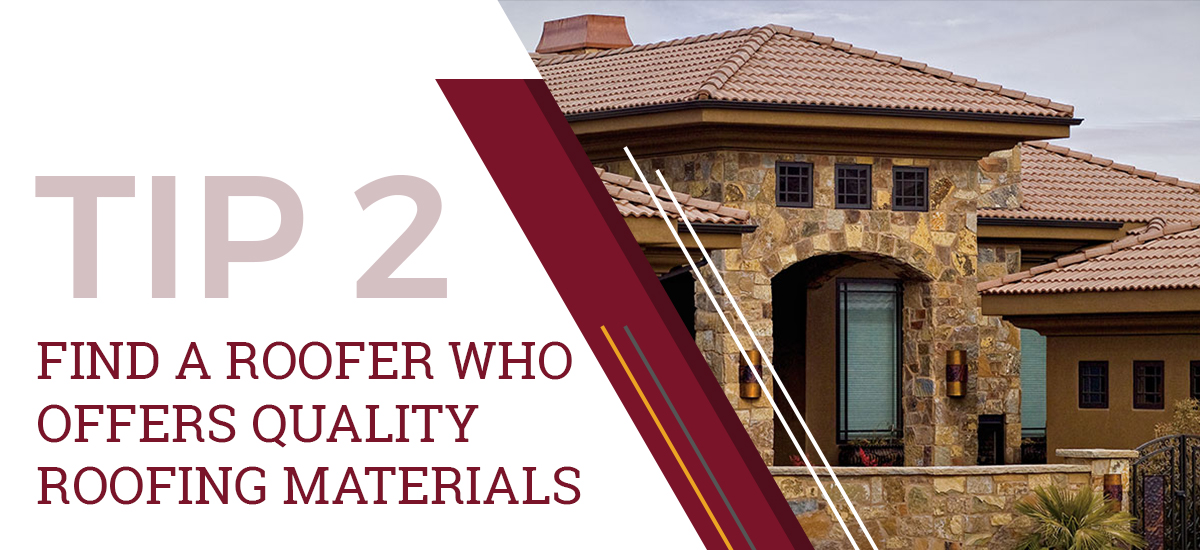 Tip #2: Find a roofer who offers quality roofing materials
Even the best roofing service in Arizona cannot provide customers with a reliable roof if they are using cheap and flimsy roofing products. The truth is, the quality of any roofing project comes down to the quality of materials used by the roofing company. The materials that a roof is made of will play an important role in determining how long the roof will actually last. A roof is meant to offer protection and keep its occupants safe and dry, however, roofs take a beating from the outdoor elements.
In Maricopa County, Arizona, we know a thing or two about sunshine. And, it is the intense sunshine that is beating down on your roof day after day. In addition, there are other weather conditions, like rain and wind, that can cause a residential or commercial building's roofing to take a beating — not to mention the debris and other objects that can hit your roof from time to time. Because of this, it is important to choose a roofing contractor that carriers quality roofing materials and brands, that way you can assure your roof will offer the long-lasting protection you desire.
Why do quality roofing products matter?
A roof is an integral part of a home or business and is the first (and only) line of defense we have against weather conditions, thus it is important that there are quality roofing materials protecting that investment. Quality roofing materials and products are those that last a long time, are protected by a warranty, and do an outstanding job at keeping our properties protected from the elements while adding appeal to the top of the building.
Shingles are generally a popular choice for those looking for new roof installation because they are strong, long lasting, are easy to install, come in a variety of colors, and have great fire retardant properties. At Express Roofing, we work with some of the leading manufacturers of shingle roofing in the industry, check out some of the brands we carry.
GAF is North America's largest manufacturer of residential and commercial roofing. GAF shingles are manufactured using advanced roofing technology, plus they are available in a wide range of design and colors.
For over 70 years, TAMKO has been creating a beautiful variation of roofing options for residential and commercial properties. Adding TAMKO shingles is a sure way to get quality and affordable shingles.
For many years, Owens Corning has dominated the insulation industry and the manufacturer applies that same quality and reputation to their roofing shingles, as well. Owens Corning shingles are the go-to for many roofing contractors looking for quality, long-lasting shingles. These shingles are a popular choice among homeowners due to their quality, bold color options, and durability, and warranty.
With Malarkey roofing products for residential roofing or commercial roofing, you can be guaranteed high-quality shingles that appealing and budget-friendly. Malarkey shingles have been offering practical solutions for commercial and residential roofing since 1956! With their Secure Choice Roofing Systems, homeowners can get a tough, durable, and appealing roof that will add years of curb appeal to their property.
Tiles are another common choice among residential roofing products and are considered to be the most durable and prestigious roofing materials available. Living in a hot or arid region, like Phoenix, AZ, the outstanding properties of tile roofing is that a majority of these products achieve an efficient enough reflective rating to qualify them for ENERGY STAR. For Arizona homeowners, this means a naturally cooler roof can help reduce home cooling costs. As part of our company's focus on customer satisfaction, at Express Roofing, we make sure to use the best quality roofing tiles for our customers, check out some of the roofing tile manufacturers we have partnered with.
Eagle Roofing is one of the leaders in green manufacturing, using recycled materials at all of their manufacturing plants. Eagle Roofing tiles are some of the most modern, durable, long-lasting, and affordable roofing option that will increase the curb appeal of your Phoenix home. With numerous styles to choose from and energy efficiency, Eagle Roofing is a popular choice for homeowners.
Boral concrete roof tiles are manufactured using an extrusion process, which gives the tiles strength and durability that is preferred by most roofing contractors. With multiple styles of concrete roofing tiles to choose from, Boral roofing shingles are installed on homes and businesses in Phoenix and throughout Arizona.
When you hire Express Roofing for Phoenix roofing installation, you can rest assured that you are getting some of the highest-quality roofing products available on the market. We are committed to keeping our customers satisfied, which is why we only carry roofing products from manufacturers who are known for their quality roofing products. We are confident that our selection of high-quality roofing materials will suit your preferences, whether residential or commercial.

Tip #3: Choose a roofing contractor with standards
In today's world, it seems that it gets harder and harder to find companies that hold high standards. When relentless businesses start competing, it quickly becomes a contest to see who can do the least amount of work to earn the biggest profits. This is important to keep in mind, especially when choosing a roofing company. A roof is a large investment, and home and business owners cannot afford to choose the wrong roofing company who takes your money and leaves you with a flimsy and cheap roof. Finding a roofing contractor with integrity and standards may be a challenge, but it can be done with some effort. There is nothing stopping roofing companies from claiming their business holds the high standards, so how can you tell which companies claims are real, and which are fake? Here are some ways you can identify a company with standards and verify that their integrity is real.
1. Choose a top rated roofing contractor in your area
Do your research and put together a list of roofing contractors who have the highest ratings in your area. It is important to take note of the number of reviews, the number of stars the ratings have, and any useful or important information, such as pricing or roofing materials used. Be sure the company has plenty of reviews —  a roofing company with one five-star review is not necessarily a better choice over a company with over 80 customer reviews and a business rating of four stars.
Express Roofing is a Top Rated Local Roofing Contractor in Ahwatukee, Phoenix, Paradise Valley, and other surrounding areas in Phoenix.
2. Search for evidence of the roofer holding to their standards
Every roofing company started somewhere. While no two roofing contractors' story is the same, they are a great way to find out if they hold to their standards. There are many ways to identify whether or not a company has integrity, but customers should consider these tell-tale questions:
Why did the roofing contractor get into the roofing industry?

Are they passionate about what they do?

Do they have an

About Us

page that includes their passion and commitment to providing excellent roofing services?

How high are the roofing company's standards?

Do they value workmanship or are they in it for quick, careless work and large profits?
At Express Roofing, we are committed to providing our customers with reliable roofing services in Phoenix, and we strive to reflect our standard of excellence in all of the work that we do. If you have questions or concerns about our company standards, feel free to contact us!
3. Pick a contractor who is setting standards for competitors to follow
They say the only way to lead is by example, and the best way to select the best roofing contractor in Phoenix with high standards is to select the one whose standards are setting the bar for other competing roofing companies to follow. No matter the industry or the community, there is always that one company who sets the bar for others in that same demographic.
It is not easy for a company to take the courage to define the standards for other local roofing companies while making it clear for customers to see. To define the standards, one must stand up and courageously set the bar by offering outstanding roofing services. In the roofing industry, it is not easy for companies to set standards and maintain their position as an industry leader, so when you come across companies that do, you have likely found the best roofing company to hire.
Tip #4: Search for a local roofing company
One of the biggest mistakes home and business owners can make when hiring a roofing contractor is selecting someone who is not local. When you entrust your roofing project to someone who is not from, or familiar with the area, you are more than likely to experience some headaches along the way. There are plenty of benefits that come with hiring local roofing contractors to handle your roof repair or installation needs; check out a few of the main ones.
Knowledgeable about the local climate
A deep knowledge and understanding is essential for the success of your roofing project, especially when you are a roofing contractor in Maricopa County, Arizona. Without anticipating weather conditions, like an extreme heat advisory or rain, you are more than likely to experience delays and have your home exposed to the harsh elements. Even with weather forecasts, there isn't a person that can predict whether or not the sky will be clear at a given time better than a local roof who has been working in the same conditions year after year.
2. Easier to research
It is much easier to check past projects of a company that exclusively provides roofing services to surrounding counties than one that hardly ever does roofing work near your location. Most reliable and trustworthy roofing contractors will have no issue handing out eligible contact information about their previous customers, and actually being able to see the workmanship in person is some of the best research on a company that can be done.
3. Familiar with the latest building codes
Building codes can vary from one location to another. Without a proper understanding of the latest roofing requirements in your area, the project could go wrong and potentially raise the interest of authorities. To ensure your home or business's roofing system will be brought to code, it is best to hire a company that exclusively provides roofing services in the surrounding counties on a day-to-day basis.
4. Close and available when needed
When failure or malfunctions occur, proximity can really matter. Compared to roofing contractors on the other side of the state, local roofers who are just a few minutes away can respond to your problem sooner. There is nothing more irritating than having to wait hours or days just to get a leaky roof repaired.
As the trusted roofing company in Ahwatukee, Paradise Valley, Central City, and the surrounding areas in Phoenix, turning to Express Roofing will help your roofing project, whether repair or installation, more successful.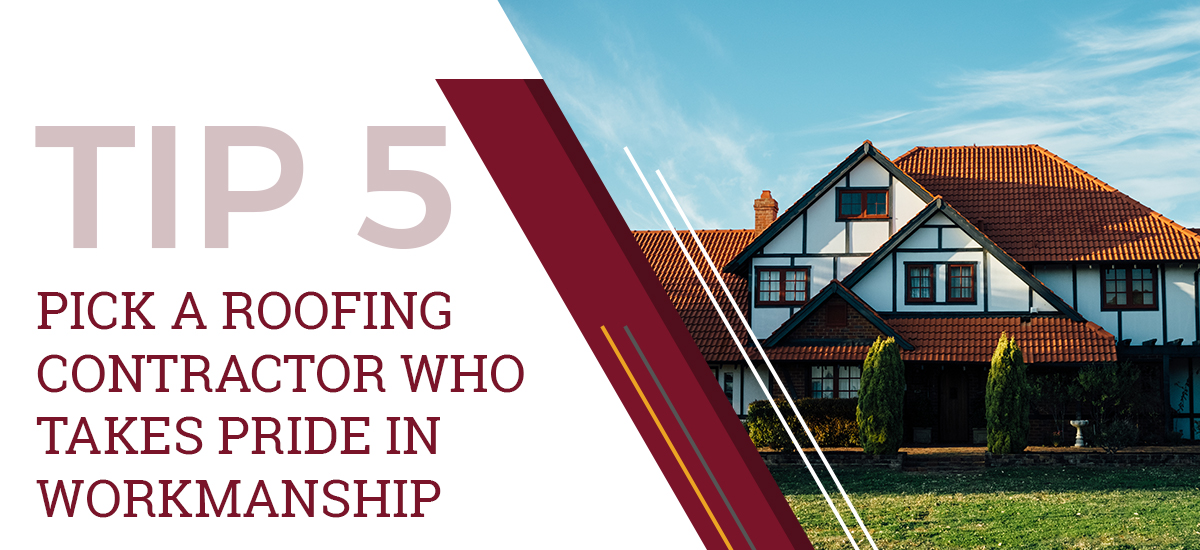 Tip #5: Pick a roofing contractor who takes pride in workmanship
Whether you own a home or a business, it is solely your responsibility to keep it in good shape. A roof is one of the most expensive investment s of a home. Therefore, a roofing contractors workmanship that goes into your roof can make all the difference. Will your roof be left to require constant repairs over and over again, or will you be left with a durable roof that is made to last? Because roofs are such a big investment, residential and commercial owners should about the workmanship of their roof.
When Express Roofing's founder started their career in the industry as a journeyman roofer, they began to notice a trend. The roofs they were repairing and replacing were not damaged due to the quality of materials but to the workmanship. He noticed that this trend continued when he was the roofing division manager for one of the most established roofing companies in the nation, too. The lack of workmanship done by other roofing companies inspired our founder to launch Express Roofing, keeping customer service and professional workmanship in mind. Finding a roofing company that values workmanship is vital, especially in Phoenix and the surrounding Arizona areas where our roots are exposed to the heat, severe thunderstorms and lighting, and occasional hail. It is not fair for homeowners to constantly have to pay for roof repairs just because the job performed with poor workmanship. With that in mind, there is also pressure on roofing companies to perform the quickest job possible. It is much more difficult to maintain a commitment to exercising a staple of good workmanship on each and every job in the roofing industry because roofs are an investment that does not need to be replaced very often. Because repeat business is not a main source of income in the roofing industry, each roofing company is usually more concerned with prospecting new jobs instead of growing old customer relationships. Because of these circumstances, more and more roofing companies are starting to care less about the quality and care of their services and are more concerned with continuing to get customers to sign contracts. With these industry circumstances, it can really be a challenge for you to find a roofing company who values workmanship, but the good news is they do exist. As someone searching for a trustworthy roofing company in Phoenix, it is important to be aware of the many ways roofers can either be prideful in their work or will do the bare minimum just to make a profit.
Will the roofer take the time to inspect your roof in order to offer you only the services that need to be done, or will they just charge your for repairs you do not need?

If the roofer notices the wood rotting from not using underlayment will they take the time and effort to replace it, or just leave it as is?

Will the roofer avoid waste by taking the time and precautions to accurately measure and cut roofing materials, or will they just end up charging you more so they can purchase additional material?

Will the roofer clean up after the job is done to ensure no nails or materials are left, or will they leave the job site a mess?
Because a roof is such a large investment and requires craftsmanship and fine attention to detail, you should search for roofers who are committed to good workmanship into each and every roofing job that they do. You will want a company that will treat your property as if it were their own. For Phoenix roofing companies that take pride in workmanship, there is not a better choice than Express Roofing. We care about workmanship and apply it to every roofing job we are hired for. Don't believe us? Take a look at the appeal, durability, and beauty our roofs have by looking at our recent projects. We are confident that our workmanship will leave you with a roof that will be effective for many years to come. Contact our team today to get your roofing project started.